Well, it's been a little while since I posted last. That's because I've been spinning this: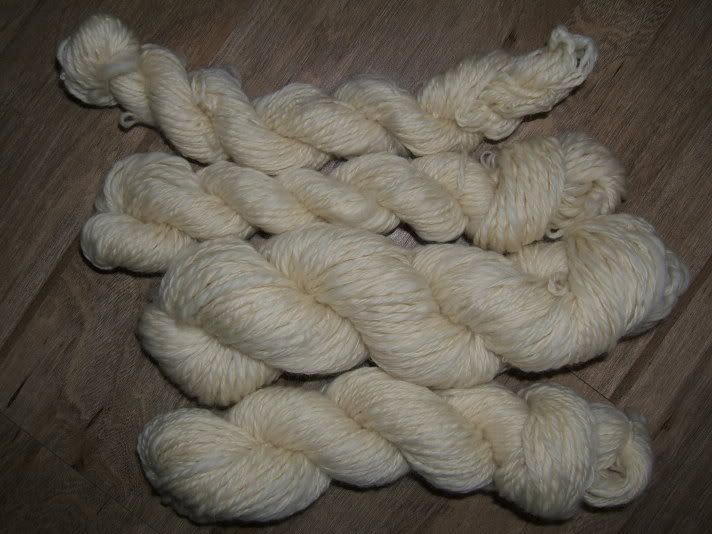 This week I learned how to spin with a long draw. It's gotten more and more consistant, but when I plied it, I found all the underspun spots...because that's where the yarn broke (over and over and over), and I had to tie it in knots. It's not very pretty. But I'll be the one knitting with it, so I can just work around the bad spots. Ah well, it's all a learning experience.
The yarn is about 8 oz. of light worsted-weight three-ply (Corriedale Cross); the top one is Navajo Plied because somehow I had a lot left on one bobbin. I plan to dye them today, and I'm trying to figure out what color combination. I was thinking of using every color in the Garden Tone box (Delphinium Blue, Aster Mauve, Juniper Green, Buttercup Yellow), but then I've been thinking that I would like to have a momento of Georgia once we move. Panseys will always remind me of here, since our landscapers kept them blooming all through the (not so cold) winter.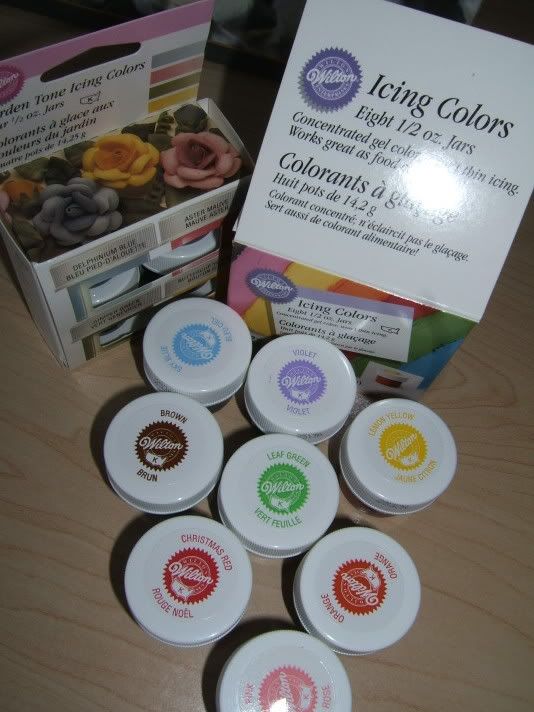 Whatever the colorway, I intend to knit it up into the
Short-Row Ribbed Scarf
(except without the fringe, probably). A pattern like that seems to be best when working with a multi color yarn, since it keeps everything from pooling too badly (suposedly) and may help the finished project look as pretty as the skein did.
A week ago, I went on a shopping trip with Knitting Friend Laura. The nearest local yarn store (LYS) is 35 minutes away, so we made a day of it. She came by to pick me up at around 10 in the morning, and then we headed out. We would have left earlier, except that we were driving to Alabama, and they're an hour behind us. Nothing much seems to be open before 10am on a Saturday over there.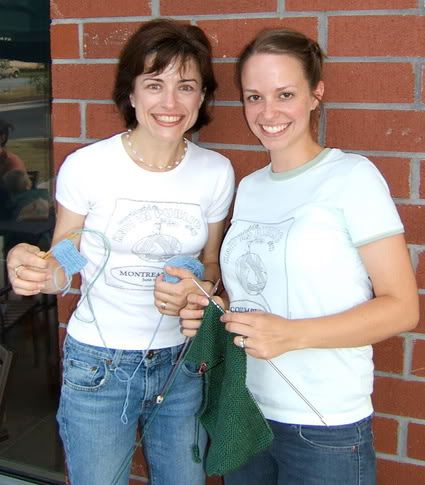 The yarn shop was our first (and most important!) stop, of course. The store is located in the front three rooms of the owner's house. She (Darlene) runs it with her husband and sometimes her kids help out too. We wandered around the store for a good while, feeling every ball and skein at least three times. Laura found what she wanted pretty quickly (as in, maybe a half-hour) but I couldn't decide. Darlene's daughter came into the store at one point and asked us if we wanted some chocolate banana bread. Our answer was pretty much and instant "yes!" The banana bread was dark chocolate, and the bananas made it taste like there was bourbon in it. Incredible. Thankfully, I thought to ask for the recipe, and I'll see if I can get permission to share it on my
show
in a few weeks. She brought the bread out to us on little blue and yellow stoneware plates, along with glasses of water with lemon. We felt like celebrities. (Well, we are, of course) =)
We talked with the Darlene for a little while about a new technique she's come up with recently, called "Concording". She
sells
a DVD with all different knitting techniques on it, including Concording. She is currently in the works of writing a pattern book based all around that technique for Vogue Knitting, which should be interesting.
Finally, I was able to find what I wanted, and we left.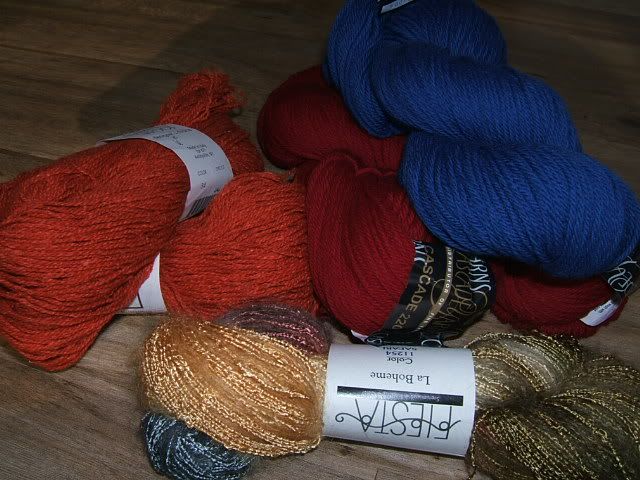 Our next stop was a strip mall. We picked over things at the Salvation Army, then headed over to the Asian grocery. I love international food, and I was so hungry from all that shopping! It was hard not to buy everything in there, but I managed to leave with only a few fried snacks, and some chili oil. The weirdest thing that I got was dried, sesame anchovies. I ate a few of them, but then the fishy flavor overcame me and they ended up in the trash. Ah well. They were interesting though.
After that, we went to the Thai place and picked up some iced coffee (Thai coffee is made with sweetened condensed milk and super-strong coffee -- very tasty!), and I got some spicy/sweet/sour soup. I can't remember what it was called, but it was quite good. The restaurant was a total hole-in-the-wall, but I've been thinking about it ever since, and if I'm ever in the area again, I'll have to go back there. Laura got some steamed spring rolls.
We brought our Thai food over to the antique mall, where there is a sitting are in the back for tired husbands to hang out and watch TV while their wives troll the isles. It was pretty funny, because we were sitting there with two old guys watching Nascar or something, while eating this fragrant food out of styrofome take out boxes. We got a few looks.
After lunch, we wandered around the mall for a while, and I ended up getting this tiny vinyl purse, which is the perfect sock knitting bag.
The most interesting thing about going to Alabama is that there is this distinct feeling of a time warp. My cell phone is my clock (I haven't worn a watch in years), and that clock always shows local time, so it's hard to keep track of what time it really is back home.
Alltogether I had a wonderful day, and I'm so glad that my husband is willing to watch the boys for me and let me have the freedom to do things like that. =)