First, a reply to A. Susie's question from the comments last week: we are moving very soon. We don't know when or where to yet, it depends on Mr FiberFlash's job and such. All that we know is that it's iminent. So sorry that I didn't answer sooner -- I've had a busy week, and forgot entirely. =)
Andean-plying. A few days ago, I read a post
Mouse
had made about how she learned to Andean-ply. I was intrigued, and immediately Googled it to see descriptions of it, pictures, directions, etc. As it turns out, Andean-plying will make a two-ply out of your singles. (Strangely enough, the word "singles" refers to both the plural and singular form of that noun.)
After I researched it, I filed it to the back of my brain. That day, I was spinning up a few inches of Alpaca top that I'd dyed as a color sample. When I got to my friend Kiersten's house the next day to spin, I realized that I still had the Alpaca singles on the bobbin that was in my wheel. I started to wind it off into a mini skein when Kiersten stopped me. "Oh, don't do that -- you can just Andean-ply it". I was just about to say that I didn't want to waste our precious spinning time with that when I realized that she was already winding it around my hand.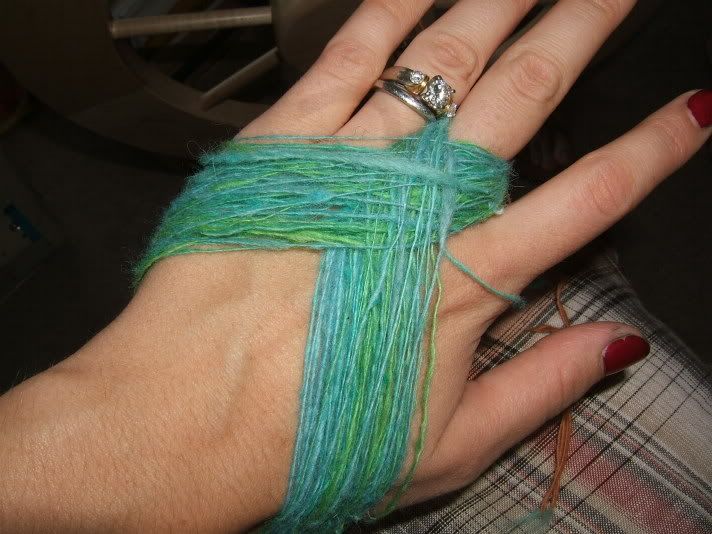 The greens and blues looked so lovely together, that soon I was engrossed.
Once it was all wound around my hand, she instructed me to slip the layers of loops off of my middle finger. This is how that looks.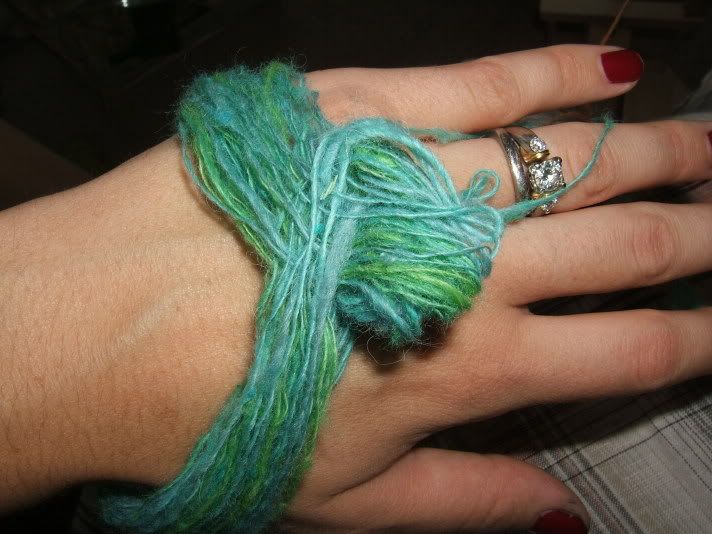 Next, you take both ends, tie them together, and tie that to the leader of your wheel (or the leader on your drop spindle). Then you spin the wheel or spindle in the opposite direction from the way you originally spun the singles, and you're plying! At the end, you come to the loop at the dead center, and you just tie that off. My skein was so tiny and cute, and the blues and greens reminded me of the ocean. (Dye was Wilton's Icing Dye, of course.)
Since then, I've plied two other mini skiens that way. It's so ingenious! There is an Andean-plying tool (go Google it and you'll find several stores that sell it), but I feel like the whole point of this is to be able to do something quickly with little to no fuss or extra tools. Maybe that's just me. Maybe I'll buy one anyway. (Did you see that coming?)
The one to the far left is the micro-skein of alpaca, the next is the ends of the pink merino bobbins (tied together where needed), and the last is a Corridale-Cross that has a chequered past when it comes to dye.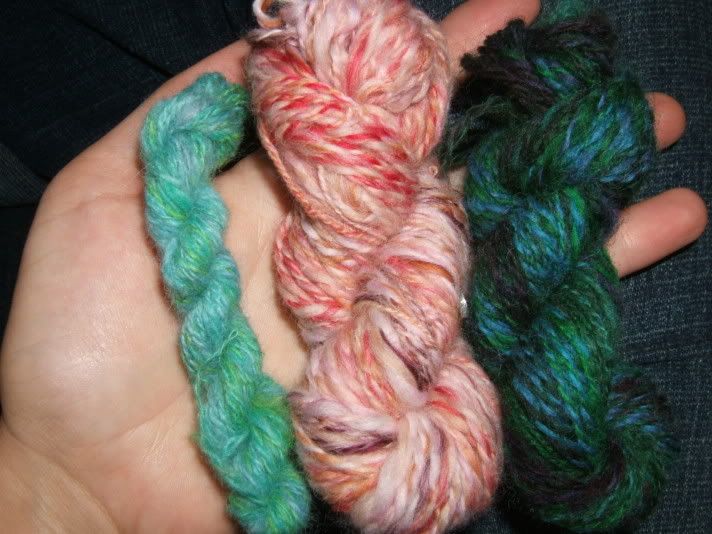 The Corridale is the same wool that came out all bad-eighties-thrift-store-faded-clothing colors last week. I overdyed it with a stronger vinegar/dye solution, and all would have been well, except I decided to try black...when I tested it out, it seemed to be taking as a deep, murky green, which was perfect for what I had planned, but after cooking it in the microwave, those areas came out burgundy/purple.
I decided to spin up a sample mini skein and Andean-ply it to see how the colors would blend. It's been really interesting to watch the process of wool to yarn. It's getting a lot easier to be able to tell how something will look, now that I've been spinning more.
I cannot over-emphasize the importance of a sample skein, if you have enough wool to experiment with (if, say, you are dealing with an exotic fiber or something, you may just want to spin a yard or so as the "experiment", let that roll back on itself a little to see how it might look and decide from there.)
This is entirely unrelated, but I was picking up my new glasses yesterday, and the sales-lady showed me how thick my glasses would be if there wasn't the technology we have today for thin lenses. My prescription thickness is on the left, as compared to "normal" lenses.
The glass doesn't have a band on the edge or anything. That's really how thick the lenses would be. Insane. Thank God for scientists and technology. Holy crap.