Stitch N Bitch meetup was kind of bittersweet on Monday, because Knitting Friend Laura is leaving. She happens to be (a doctor) in the Army, which never seemed to be of consequence until now, which is why I've never mentioned it, but she's getting deployed on Saturday. (She's one of those people who happens to have a job in the Army, but that's just her work, not her life.)
For some reason I didn't take any pictures of her Last SnB, but here's the Handmaiden
Sea Silk
that I gave her as a parting gift: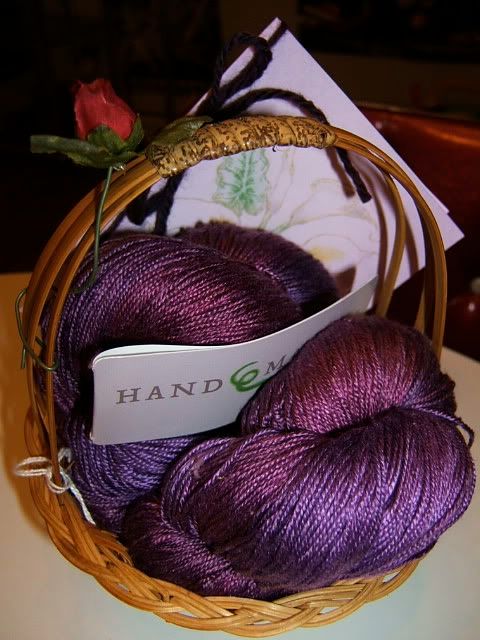 It really is just as soft and wonderful as it looks. The colors are rich, and it smells just faintly of the ocean. Be sure to click on the link above; it has anti-inflammatory properties and releases vitamines into your skin as you work with it and then wear it. Incredible. I will most definitely be getting this for me, maybe in some blues or greens or something. Yum. I have to admit that, for the few weeks it sat on the edge of my stash, I may have walked around holding it a few times.
We all stayed at the meetup until around 11pm...it's so sad to say goodbye. We'll miss you Laura! You being deployed puts a whole new spin on "adopt a soldier" programs. Our group has pledged to "adopt" her, our very own knitter, who will soon stand on foreign soil (or sand?)
Something good that came out of that night is two finished objects! My two samples for the store are completed, and I turned them in yesterday morning. It seems I was a bit overenthusiastic about the bag-strap length.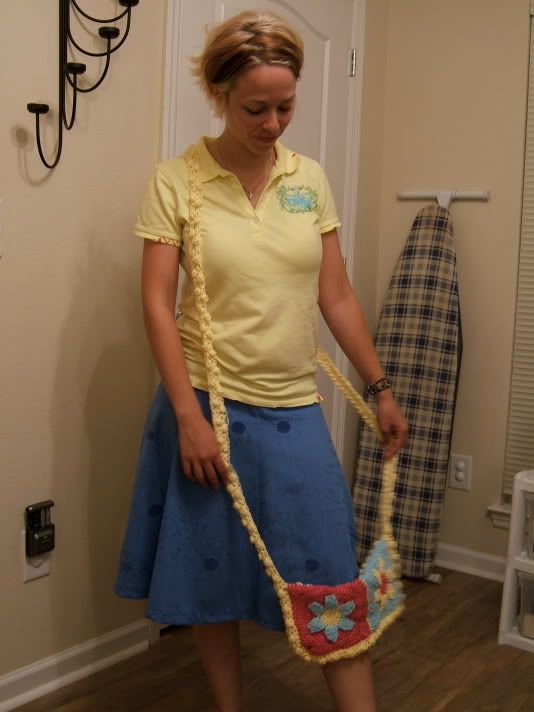 Now I am short, but this probably would still look silly on a 6-foot woman. Fortunately, the strap can be knotted since it's not too thick, and it doesn't look
too
weird that way... Anyway, the bag will be hanging on a wall for a while, so it doesn't matter.
Upon closer examination of the strap, I also noticed something else. Somehow I'd managed to crochet a double-bobble, which somehow could only look like a mutated nipple to me. Which calls into question why I've now crocheted two bags entirely covered in these nipple-bobbles, but let's just go ahead and not ask those questions, shall we?
Laura suggested adding a flower to cover it up, which is what I did.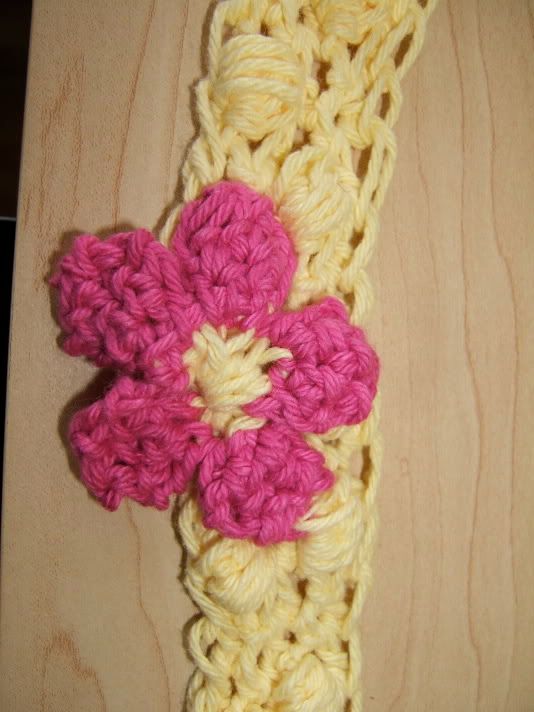 Not bad, eh?
Here are some unusually crappy pictures of the finished bag.
Front: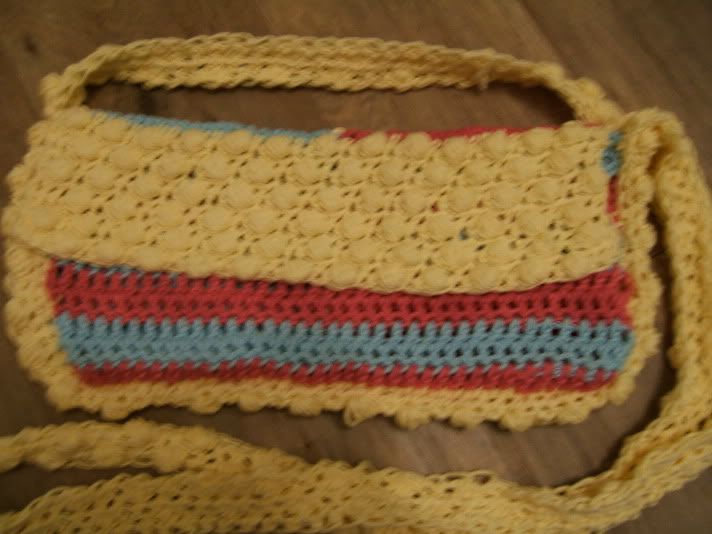 Back: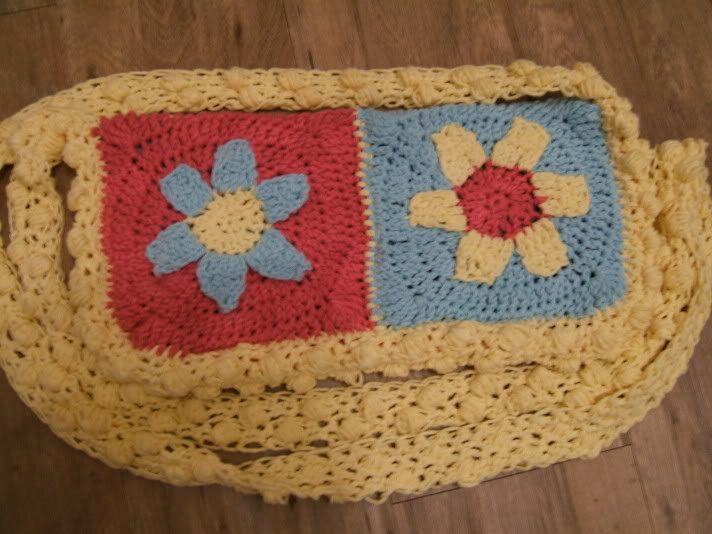 This bag is my hybrid version of the
Flower Power Rug
(free pattern on the Bernat site or in craft stores selling this yarn), and the Textured Tweed Clutch from Interweave Crochet, Fall 2005. I used a size 6 aluminum hook, and
Bernat Handicrafter Cotton
.
The yellow isn't a gross color in real life. It's actually this perfect shade of light, icy lemon.
Also, I finished this baby hat, with a spur-of-the-moment flower appleque (I probably just totally butchered the spelling):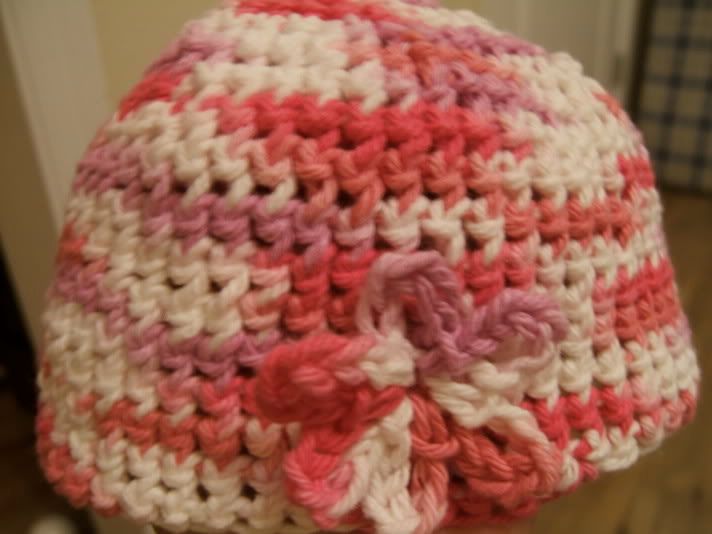 I never did end up figuring out the crab-stitch, but I'm ok with that. For now.
This
pattern
(sans flower) is also free on the Bernat site. I completed it in about an hour or less, so this would be suitable for a beginner, or someone who needs a quick gift.
I want a little baby girl, just so that I can decorate her in things such as this. (Sarah, judging from my current track record, I'll probably keep on having boys, so since you haven't started yet, can you just get on the girl program for me? That'll work out nicely. Thanks.)
My thoughts on working with this yarn, Bernat Handicrafter Cotton. It was nice. It was exactly like Sugar N Cream and Peaches N Cream. Do we really need Bernat to make massive skeins of their version? No, I didn't think so either. But reguardless, I have no complaints (except the occasional knot, which was annoying). It's about $10 for 340 grams, which ends up being about the same price as either of the "N Cream's". Crochet and cotton do go well together, I must say.
This post is getting quite picture heavy, but I must leave you with one more. Has anyone seen this yet?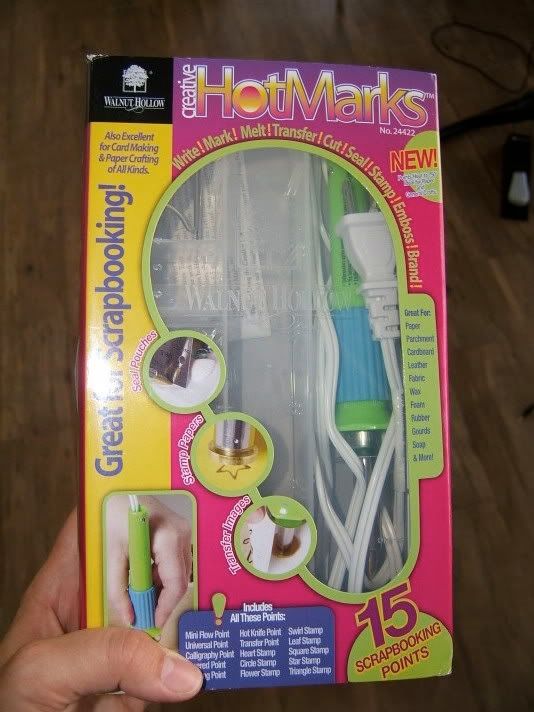 Looks seductive, yes? Don't buy it. "Write! Mark! Melt! Transfer! Cut! Seal! Sucks!" Oh wait, that last one was my own thoughts. The outside of the package is all cute and stuff, but it doesn't mention anywhere that you need pliars to remove and replace the tips. Thankfully I had one at home. The directions are on this one tiny piece of paper, and it kind of just says something about pliars in passing.
Something else that they failed to mention is if you are supposed to unscrew or just pull off. I tried to just pull first. Guess how well that worked out for me? Then, I finally got the hang of the tips, and was changing them out to see what worked for which purposes. Except that grabbing with the pliars was creating digs in the surface of the metal tips.
I was burning my cardstock and paper on top of an acrylic cutting board, when I realized that whenever the paper would finally burn, it would stick, forever fused, to my board. Ask me if I've been able to remove the burned shreds yet. (Actually don't. It'll just incite me further.)
Furthermore, it was very difficult to get a decent burn mark in the paper or cardstock at all while on a flat surface. The burning process really needed more air, and worked best when the paper was held up...except that's exactly where I had the least control of things, and very nearly burned my fingers several times.
My conclusion: do not waste your money. Thankfully, I still had the receipt, and was able to return mine. (I thought it was kind of funny when they innocently asked "oh, is it damaged?" and my immediate response was "yes, now it is!")
If anyone else has had decent results with this product, please let me know. Perhaps I'm just craftiness-challanged and it's all me. Please speak up if this is so!