The new
Knitty
is up! So exciting! There are tons of sock patterns, most of which are quite interesting. I do agree with
Mouse
though -- why are there so many hats, gloves and socks in a SUMMER issue? Hmm. Anyway, it's another great issue. Knitty is by far my favorite of all print and online knitting mags. Not only do they usually have smashing patterns, but they also have interesting and educational articles, as well as product reviews.
Has anyone seen
Eunny's
new sweater? That girl is completely amazing. I purchased her "Deep-V Argyle Vest" when it first came out, as well as "Chuck's Cabled Socks" (confusingly, these are sized for a woman's foot). I can't wait until she posts the pattern for the new Twisted Stitch Sweater! I've been watching her knit this, and it's totally fabulous.
Earlier today, Mr. FiberFlash took Sparky and Max outside to play. I took a nap because I wasn't feeling that well. A few hours later he came rushing back into the house. Max was covered in blood, and since I'd just woken up it took me a moment to figure out what was going on. They'd been playing on the concrete steps, and Max had somehow fallen and cut his top lip. Max was in suprisingly good spirits, but the cut was deep, and I could tell that stitches were in order.
Thankfully, Mr. FiberFlash was able to bring him to the hospital. I stayed home with Sparky, since he needed a nap, and I think that I would have cried and been sick all over the emergancy room when they had to sew my little guy up.
Sparky was a little concerned about where Max had gone, but we read "Make Way For Ducklings" while drinking sweet tea and eating peanuts (the only thing to eat while reading that book, if you remember the story), and he's now fast asleep.
Max is on his way home from the hospital at this moment, and it seems that he is doing well (and is also asleep).
On Monday, at Stitch N Bitch, it seemed that Old Navy green was the color of the day (at least for Tiffany and I):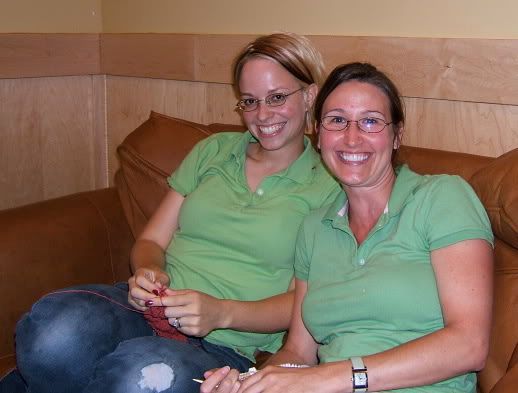 Please excuse our shiny heads -- it's hot here in Georgia!
(Photo by the hilarious
Becca
)
In the past week, I've finally begun to make headway on Orangina: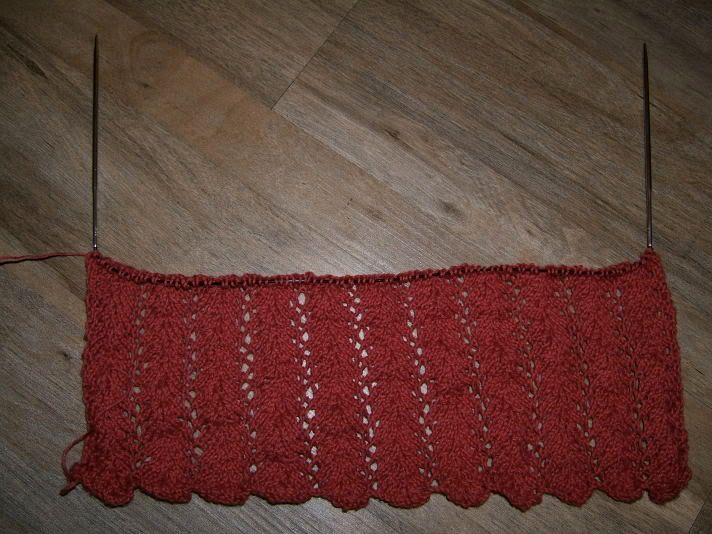 Exciting! I can't wait to wear this.
I've been catching up on my Blogroll today, and noticed the Yarn Harlot's spinny entry on Tuesday. She was spinning up batts by
Farm-Witch
, and they looked utterly gorgeous. I needed some. Unfortunately, every other spinner in the world probably thought the same thing on TUESDAY, and everything is bought up (this is not reflected on the store's site, but I have confirmed this via email.) She should be posting some new batts in the following week though, and I'm going to be all over that! While I kind of suck at spinning thus far, I am a firm believer in spinning good quality, beautiful stuff, just in case I suddenly get good. Or maybe just to keep me interested. =) So I guess, since this has to be postponed for a few days, this is will be a semi-impulse buy.