It seems that yesterday's Stitch N Bitch was "wear your Old Navy plaid skirt night". (I sense a
trend
.)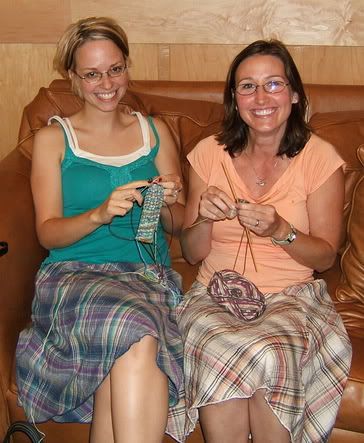 All I can say is, Tiffany got her idea from me. =b (Once again, photo by
Becca
. She's turning into the official group photographer.)
Look closely at that picture. Can you see that I'm knitting a sock on two circs? This is my first time! (Thank you Tiffany for the help!) It's none other than Brenda Dayne's
Pembrokeshire Pathways Sock
with Sarah's (from this blog) handpainted sock yarn. I'm still on the first sock. It was going slowly because I was getting fed up with going from DPN to DPN and doing 6 cable twists every 4 rows, but last night I transferred it on to two circs, and I'm flying! If only I'd started two socks at the same time... Next time, surely.
Tiffany is knitting her first sock. She just turned the heel last night, without any help. That's better than I did my first time! =)
I finally finished spinning up the pink Merino.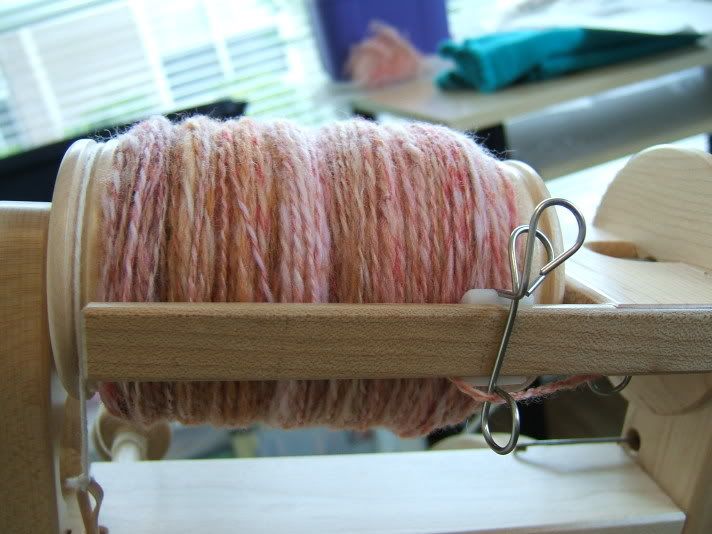 Can you believe that I fit nearly 4 ounces on that one bobbin? I literally could not get it to take on anymore, even with the tension turned all the way up; it wouldn't turn anymore.
It turned out exactly as I had planned, which is a wonderful change. Something that I need to work on though is spinning my yarn more tightly. I was trying to make sure that I was spinning it 6 twists to the inch (double the yarn on itself and measure with a ruler how many twists are in an inch of it), because it seemed that the yarn would be at it's soft, lofty best at that ratio, and using a long draw (the less you touch your yarn as it's spinning, the less air you press out of it, thus giving you a loftier end result). As it turns out, I should have spun it just a little tighter (maybe 7 or 8 twists to the inch) so that when I plied it, it would counterbalance and end up where I wanted it.
So while this yarn looks sweet in the photo, it has a dirty little secret. While I was plying, it was breaking at different points, so I had to knot it, which is never fun. But I will be the one eventually knitting with it, so I don't have to worry about someone else getting fed up with it.
Ah well. I've got some fabulous Blue Faced Liescter (pronounced "Lester", like the man's name) from my Spunky Eclectic subscription that I intend on spinning up next...or maybe some of the fabulous alpaca from my mom's neighbor...Or maybe I'll just knit.
Oh! Speaking of knitting, I have this new idea. I've been wanting to start a project/creative notebook for myself, and I was thinking that it would be cool to have a group notebook for our SnB Meetups.
At each Meetup, we could pass it around, and whoever wants to can write a little note about something they've learned that day, or something that they're enjoying right now, what's the favorite color of the hour, what coffee are they drinking, what were the topics of conversation. Maybe we could even include some snips of yarn that are being used, or perhaps a swatch or two? Then whoever takes any pics during the Meetup can bring those in next time and tape them in the appropriate spots, if desired.
Unfortunately, I'll be moving soon, but the book could stay with the group. It would make a cool group history for everyone to look through.
Now that I've actually typed this out, it sounds pretty darn fun. Off to Major Chain Craft Store with my 40% coupon to get a notebook!