For my birthday yesterday, Mr Fiberflash took me out to a seafood place for dinner. I had never had raw oysters before, but my sister had told me about it. So I ordered half-a-dozen to see what the big deal was:
Why did I wait so long? Nestled in crushed ice, they looked inviting enough. I wasn't too sure how to eat it, but a dab of horseradish, a bit of cocktail sauce and a squeeze of lemon later and I was sipping from the rugged shell...the ocean itself. The essence of the most pure, the most exquisitely delicate, freshly sweet, lightly salted, succulent morsel I have ever placed in my mouth. I need to go back, and this time I'll order an entire dozen, and get a small main dish as a side. Wow. If you ever get the chance to eat oysters on the half shell, you simply must. There's no two ways about it.
My sock is coming along very slowly. The problem is, my hands really don't want to hold such small needles right now. When I've cast off the second sock, I need to take a break from socks for a little while. As much as I adore having one on the needles at all times, I need to give my hands a rest from them. I'm really loving how this first one is turning out though. Progress report tomorrow, hopefully...
Ah yes, and here is that lovely plastic stole I spoke of yesterday: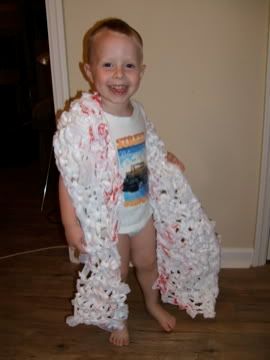 I can hardly believe how huge it is, and as I said yesterday, it took me only about an hour to knit! Sparky is 2-1/2 years old and stands about 3 feet tall, and it's nearly touching the ground on both sides.
First I cut a stack of plastic bags horizontally, which created loops. Then I looped the loops together and wound it into a huge ball. After that I just cast on and knit.
Working with size #50 needles was insane. I had to knit English style, because it was pretty much impossible any other way. I'm sure it looked a little obscene though, with the one needle planted firmly in my lap...let's not dwell on that.
Surely I could have thought of something more creative than garter stitch, and actually I did log cabin it at one end, just to amuse myself, but I really didn't want to do this in the first place -- all I wanted to stitch was my sockapalooza sock! So I pretty much just got this out of the way, and then hung it over my table to attract people to my set (and attention it did draw, I assure you.)