Ok, first off, Sockapalooza news:
This is how far I've gotten with the first sock. I really have been working on it quite a bit, but the trouble is my left hand...I have to keep stopping whenever it gets too sore, because I really don't want to have to stop knitting for a week again. That sucked.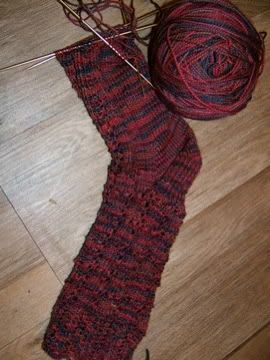 I really, really hope I get this done on time. I'd feel sooo bad if I didn't, and I wouldn't want to dissapoint my pal!
On Saturday, I was working a Knitting Demonstration table at the Major Craft Store.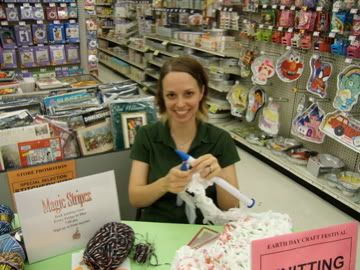 Yes, I'm knitting plastic bags on size #50 needles. Nope, I didn't come up with that idea myself.
At the table I felt a lot like an animal at the petting zoo (people openly discussing what I was doing right in front of me -- I could get all in to it, but don't have time tonight. Perhaps tomorrow?) I got paid for it though, and that's what counts. I'm a sell-out, yes?
Today is my birthday, and my husband took me out to this amazing seafood restaurant, while two of my friends (mommies themselves!) took care of Sparky and Max. My husband also got me a huge stock pot with steamer basket and strainer, which I'm super excited about. (I love kitchen things -- if you saw inside the cabenets, you'd nod patronizingly and talk about me later).
I would tell you about what I ate for dinner (some of the most amazing stuff I've ever put in my mouth), but don't have the time. Date night doesn't end at the restaurant! I'll give more dinner details tomorrow, as well as a full length shot of the Plastic Bag Stole -- it was huge, and only took an hour to knit.