My new wheel came on Tuesday!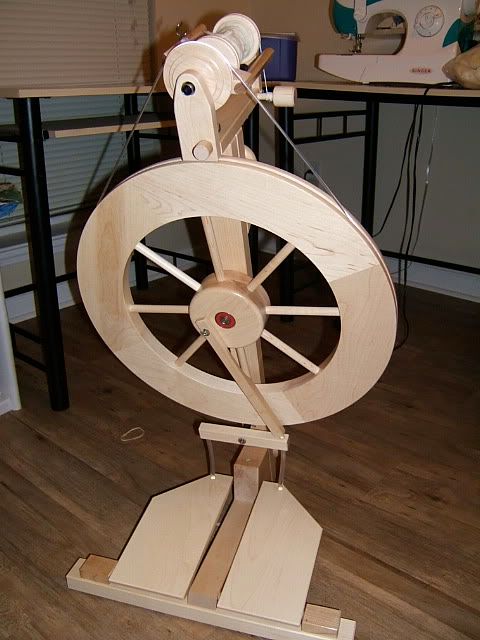 It's a Lendrum Double Treadle Delux (along with the normal head it comes with the jumbo head, speed flyer, plying head and lazy kate to make it the most flexible wheel I've ever seen, for the price).
I spun a little on it last night for the first time, and I'm so enamored with it. Oh My Gosh. It spins so fast too, on the slowest setting! I was over twisting without treadling much at all. I do happen to be pretty slow at drafting, but I'm sure that I'll speed up soon enough and it'll all even out. All I can say is: WOW.
My hands finally felt well enough to (finally!) finish these: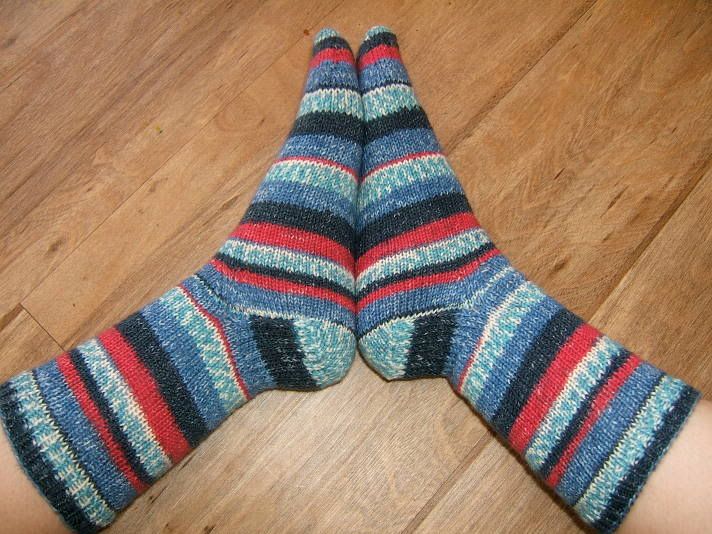 Yarn:
Lion Brand Magic Stripes in Stonewashed Blue Pattern
Needles:
aluminum DPN's size #2 (the aluminum was what nearly killed these hands -- I've switched to bamboo and birch, and I'll let you know how things go)
Cast-on to cast-off:
I can't really remember, but all together actual knitting time was 14 hours. I finished them on Tuesday morning at 2am.
Notes:
These were knit as a sample for the Major Chain Craft Store. If I knit these for myself, I'd make the entire leg in 2x2 rib so that they wouldn't fall down. Also, they softened up like crazy when I washed them. They actually went from kind of stiff to quite cozy. I could hardly believe it myself! I would also make them mismatched, because I would find that charming. I just figured that if I was actually SELLING these, they should match perfectly.
I wanted to write a little about my Stitch N Bitch group, because I haven't even mentioned them here yet, but I don't have time today. Look for a post about that and also my sockapalooza WIP in the coming days...