I finished my hat yesterday. Well at least the "hat" part of the hat. It's supposed to have ear flaps and cords with pom-poms attached, and kitty ears on top. Mr. Fiberflash, however, says that it's a good hat right now, and anything extra would ruin it. I would definitely wear it the way it is now. I was going to add the "kitty" stuff just to get the experience of doing those techniques, and if I realize that I'll never wear it, I always have sisters who probably will, or something. So my question to all of you is this: should I add to a perfectly good hat? Or should I just leave it the way it is?
When I finished this hat, my husband couldn't photograph me with it because he was at work. Sparky was napping, so the only person around to model the hat for me was Max. As you can see, he thinks it's fantastic.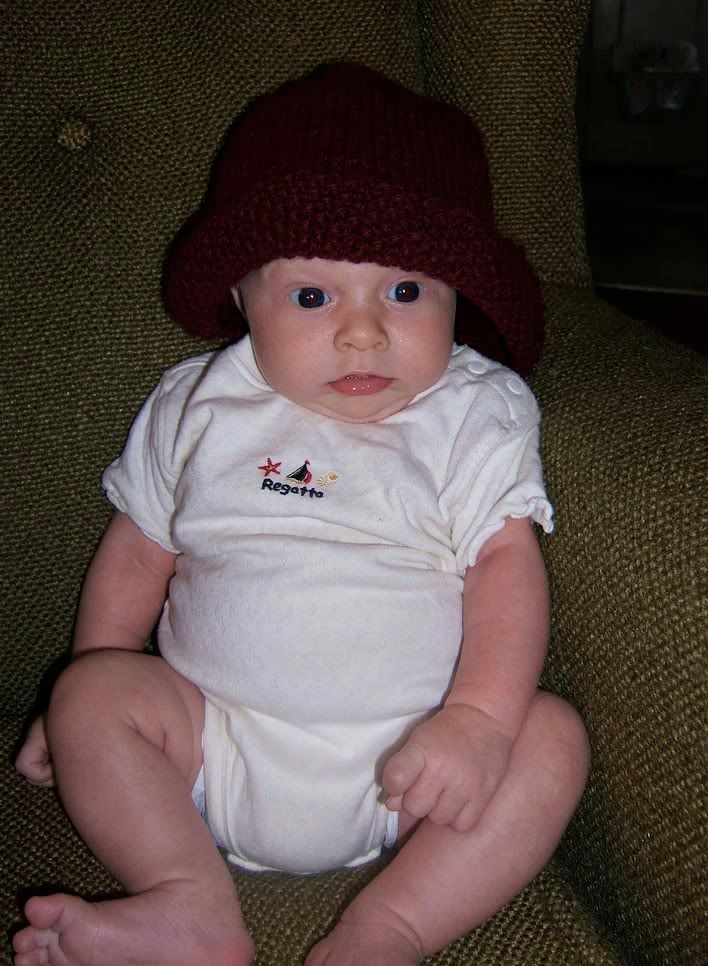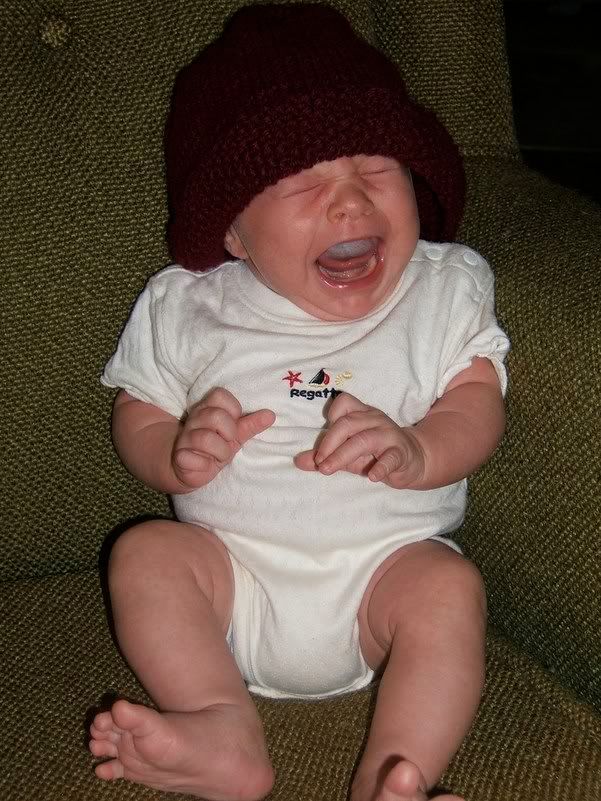 Pattern:
Kittyville Hat (minus the "Kittyness") from Stitch N Bitch

Yarn:
Plymouth; 80% acrylic, 20% wool

Pattern Notes:
would make this out of a slightly heavier yarn next time. This made a nice fitting but somewhat thin, wimpy hat. Something to consider when learning to substitute yarn is figuring out if it will change the way the fabric lies.

The socks are coming along well. I went to Knit Night last night at The Bamboo Needle, and a lady named Barbara helped me through the part I couldn't understand. I had figured out how to "turn the heel" through the pattern + several tutorials online (look
here
for the best one I found), but then got stuck on how to start the gusset. Now that I had someone showed me, it all makes sense.
The Knit Night was really great. There were knittters off all ages there, as well as all experience levels. Some ladies had been knitting all their life, it seemed and others had just started that week (great work Andrea!) All in all, it was exactly what I was looking for. Two hours, working on projects with a group of other knitters, surrounded by yummy yarns, in an air conditioned, comfortable room.
I can expound on my projects, lovely new fibers I've found, etc. here on this blog, but I start to feel sorry for Mr. Fiberflash sometimes when I unload all this on him. I know he tries hard to act interested, and I suppose it's only fair because he tells me all about his music scenes, but more than likely, enough is enough at some point. =) So it was great to be with a group of ladies who are just as excited (or more so!) about the things that I am.