On the flight to Germany, I brought my half-finished
Kiri
shawl, hoping that it would be enough to keep me sane on the journey. Instead, between trying to handle two toddlers and attempting to (unsuccessfully) sleep, I did not knit a stitch. After arriving at our hotel, I manage to spin up a bunch of laceweight Spunky BFL singles (colorway "Berry Pickin'" from the Fiber Club a few months ago -- sorry, no pictures yet!), but as far as knitting, I was only able to knit on the simplest project: the mindless toddler sock.
I'm telling you people, these two little pairs are all that has made me feel normal on certain days, and a huge comfort to knit something so familiar and mindless. (I've knit this pair once before in solid blue for Sparky.) I don't want to make you all think that my time here in Germany has been terrible. It's actually been amazing, fun, tons of discovery. We live in an awesome, large apartment in a great section of a gorgeous little town, and every day is an adventure. It's just that...well, some days it's nice to have one thing that's not an adventure at all. Something that's more...homey, or home-like I guess.
The boys are absolutely thrilled with their matching socks. I could not ask for better thanks then the squeals of delight that met me the morning I presented them with their pairs.
What cute, chubby legs.
STATS
Yarn:
LB Magic Stripes in Lumberjack Plaid pattern (I think)
Needles:
For the smaller pair (on right), size 0, for the larger, size 1. Both 32" KnitPicks classic circulars using the magic loop technique, one sock at a time. This is my current favorite way to knit socks.
Pattern:
Spunky Toddler Socks
Cast-on to cast-off:
I took my time with these, so the first three socks took a few weeks.The last one took two days.
Pattern notes:
I love this pattern. The only thing I'm struggling with is the short row heel. I end up with holes some of the time, even when using Miso Crafty's little
tutorial
. Not sure what I'm doing wrong. Thankfully, since these are toddler socks for very forgiving little people, and since I've been able to suppress the perfectionist side of me for the projects, I just sewed the holes up and kept right on going. I would highly recommend knitting something similar for mindless, therapeutic knitting. The project is quickly over so you have a sense of accomplishment, and there's something comforting about counting the stripes as they roll of the needles. (For those that follow this blog, you will know that this is a departure from the norm, as I usually do not approve of self patterning yarn, finding it...vaguely...I don't know, distasteful to me?)
After completing the two pairs, I started on this
Broadripple
sock at the beginning of this week.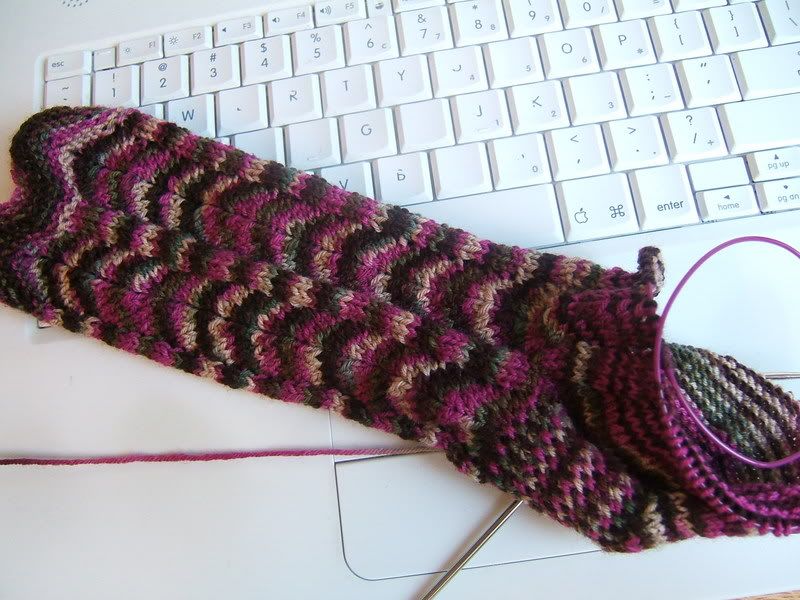 Once again, it's a pattern I've
previously knit
, but this time only because it's something I know works well with Lorna's Laces colorways, and is a no brainer for a good looking sock. The lace pattern is simple to learn; within the first few rounds I had it memorized once again.
After knitting with LB Magic Stripes for the two toddler pairs (which is a little coarse, although softens up nicely in the first wash), the Lorna's Laces feels like Cashmere through my fingers.
So that's my Socktober Fest update for now. I'll post as often as I can! Hopefully I'll put a button up in my sidebar before the month's up (because it's all about the button, right?), and I plan to finish this third pair within the next week.
For those of you who like this sort of thing, yes, I will be posting a belly shot in the near future. Perhaps over the weekend? Check back! The belly is ever growing. =) (I'm 15 weeks as of two days from now. 25 weeks to go!)