As it turns out, I forgot to have Mr. FiberFlash take a belly shot over the weekend, so this morning I balanced my camera on top of a honey jar on my counter, set the timer, and shot through the open door onto my balcony/porch/roof-cut-out-open-air-room.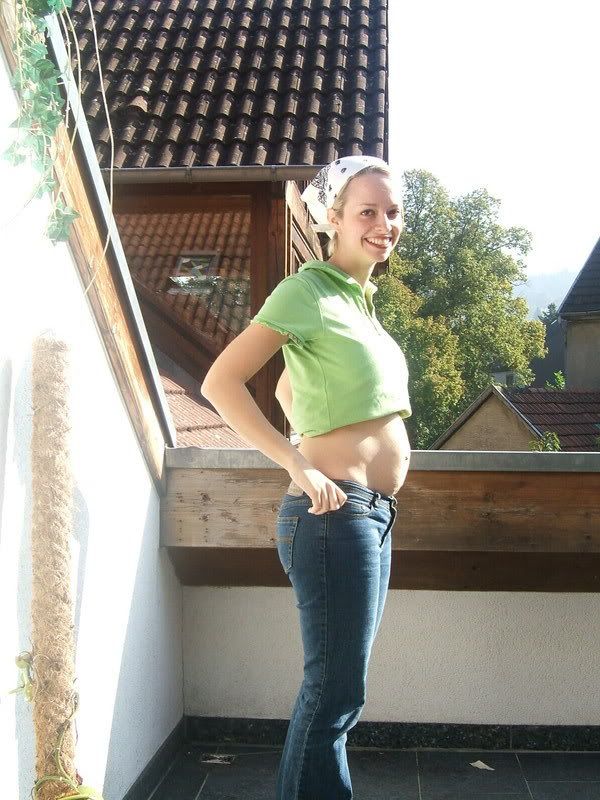 It only took me three tries to get this. Not too bad! The only problem is, here in Germany they seem to be pretty private about pregnancy and such (I've only seen one pregnant lady since moving here). I'm sure that any number of neighbors around the courtyard could have been looking out their windows at that moment (and probably were), but they probably just chalked it up to Those Crazy Americans. They all know where we live. Ah well. The things I do for you, let me tell you.
I purchased my first yarn since moving here. There is a yarn shop down the street that sells things I'm not familiar with. There is some sock yarn, but mostly patterned stuff; no handpainted at all, and only a few solids. Strange. Then their worsted/bulky weight workhorse wools are also very limited.
After looking for quite a while, I came up with this. Sparky and Max need hats since it's getting pretty cold here (30 degrees this morning!). For some reason I didn't pack any; they're with our household goods, which are still on their way over here. They need hats and mittens anyway, because the selection that we own is very limited and most of it is quite ugly. Also, I haven't knit any of it myself, which of course needs to happen. So thus this 55% wool, 45% acrylic.
I would have preferred entirely natural fibers, but as I said, the selection is crazy limited there. Pretty frustrating, because this is the first time I've lived this close to a yarn shop, and there's almost nothing to buy there! If nothing else, this will help me save money, but that's the only bright side I can see. At least the staff is friendly (although conversation is limited, since they know only a little English, and I am struggling to learn German).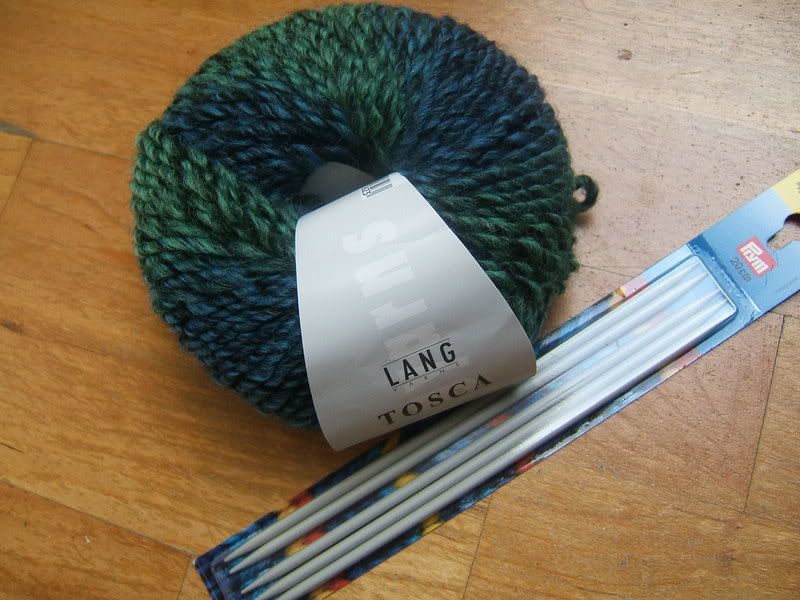 Something strange: I asked the lady how much the needles cost, and she said 10 Euro. I looked at the sign to confirm (as I said, her English is
pretty
good) and thought that was pretty expensive for a set of DPN's, but I didn't pack a large selection of needles with me, and have no idea when all my craft stuff will get here. When the lady rang me up, however, the needles only came to 4.10. I didn't ask any questions, but I wonder if she gave me the discount on purpose? Or did I misunderstand her? Or is it possible that I can't read numbers on signs anymore? Hmmm. Anyway, it was a nice surprise. And now I can use the same needles for hats
and
mittens for both boys, so that will work out well.
This is how far I've gotten with the Broadripple socks. I started the second one yesterday and got to the heel flap. I have to say, the eye-of-the-partridge heel is my absolute favorite now, and I substitute it for a plain slip-stitch heel every time. I can't help myself. Especially with a multi-colorway like this, it makes tiny little pops of color that are very fun. The heel isn't any harder than any other -- you should totally try it if you haven't yet.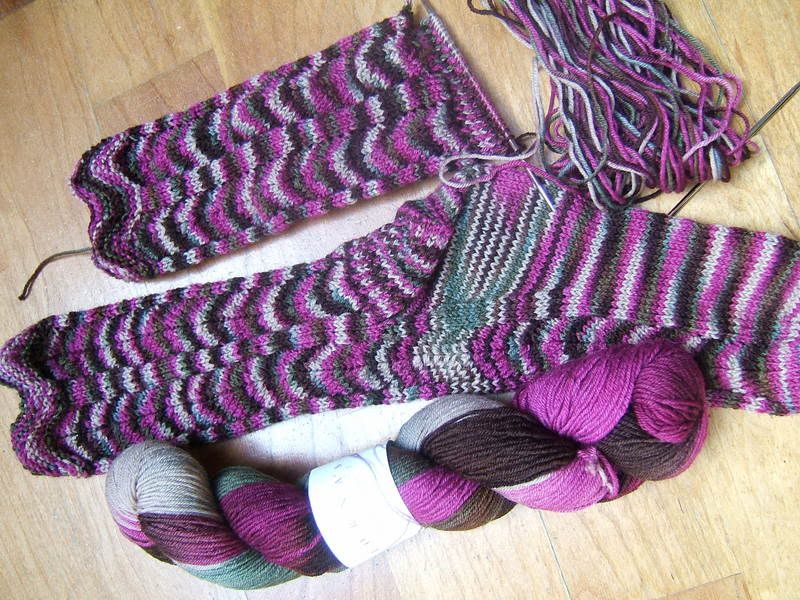 Completely unrelated, but earlier I was calling my one-year-old, Max, to come get his bottle for naptime. Usually this gets him excited but this time he was totally silent. I went to find out what was up and found him in the shower, busily stuffing chunks of his rice cake down the drain. Moral of the story: If your toddler is ever too quiet, you should probably go check on him.
Final note: to those of you who have left wonderful comments (some requesting a reply) in the past few months, I am terribly sorry that I haven't gotten back with any of you. I've been either overwhelmed or internet-less, so please, if it was important, ask again. =)