I finished the Broadripple socks last night. I was going to show them to you today, but I found something else instead, that needs to be blogged about first. I'll post pics tomorrow. (I'll be wearing the socks all day though -- so thrilled to have another pair! MA, if you're reading this, I'll be thinking of you!)
So what was it that bumped the FO out of the way? A long overdue one, and socks, at that.
Before I gave the Pembrokeshire socks to my mom, I made sure that I took a picture of them so that I could show you all. After moving, however, the picture seemed to be lost. My husband had taken over the job of uploading of pictures to computer while in transit, and I couldn't figure out his system (or, I suppose that I didn't realize he'd changed the system). Anyway. Today I was going through pictures of all the socks I've ever knit, and -- there it was! The Lost Socks. So here they are.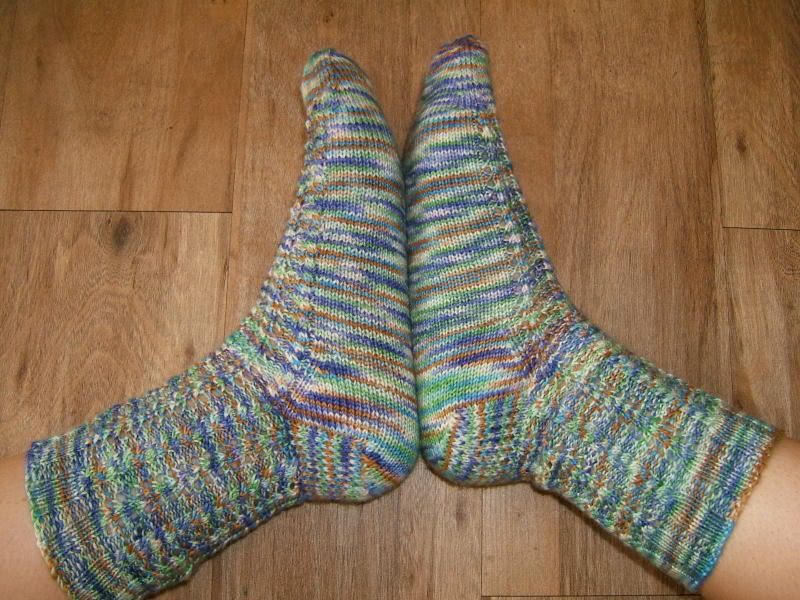 STATS


Pattern:
Pembrokeshire Pathways Socks
by Brenda Dayne
Yarn:
Superwash fingering weight baby wool, beautifully handpainted by my blogging partner, Sarah (using Wilton's Icing Dye)
Needles:
KnitPicks Classic Circulars, size 1 (Ever since my mom's Jaywalkers bagged out and wouldn't stay up anymore, I've knit all my socks at a slightly smaller gauge than suggested. Also, size 1's just give such a lovely sock fabric.)
Cast-on - Cast off:
June 23rd - August 17th. These took so long because I had a hard time working at them consistantly. All the cable twists were a turn off, although thankfully they were turning out so beautifully that it kept me going.
Notes:
I would not knit these again. Two many cable twists (6 every 4 rows!!). However, it produces a gorgeous sock. By the time I was done, I wished that I hadn't already earmarked these for my mom, because I loved them so much. The trouble is...as I said, I won't make a second pair for myself.
Also, there was some errata in the pattern stitch (discrepancy between written and charted instruction), but I did whatever seemed to make sense and look the best, and I'm pleased with the result. Also, I substituted an eye-of-the-partridge heel and a German Round Toe (my gift sock toe, since I feel like it
might
hold up a little better).
But seriously, look at that stitch (and the heel!). It really is beautiful. Also, with the Easter colorway that Sarah came up with, it just worked so well with the idea of the sock. Love em. My mom loves them too. She was especially touched by the fact that Sara had dyed the yarn and then I knit it (my mom kind of considers herself to be Sarah's second mom of sorts).
So Sarah, I hope that you've seen them in real life by now! If not, here they are on the blog, finally. I'm so glad that I found the pictures.
Today its been raining all day, but the sun just came out, so the boys and I will be headed out to the little produce market shortly. Today is Mr FiberFlash's birthday (29!), so we'll also be baking...shhhh, it's a secret! I promise that I'll start blogging more about my life soon, since I now have pretty interesting surroundings and adventures. I've realized that I haven't really personalized this blog all that much, but more on that tomorrow. For now, it's action time! Gotta organize my little troops. Hope you get to see a blue sky today too!