Blogger had me tagged as a spam blogger. My gosh. Well. After an "official review" by their tech team, they've determined that I'm actually a real live person. What a relief! I now have Blogger validating me as a person!!! Hurrah!
Ok. On to a way overdue write up of a finished knit.
Gorgeous hat on a gorgous guy. What's there not to like?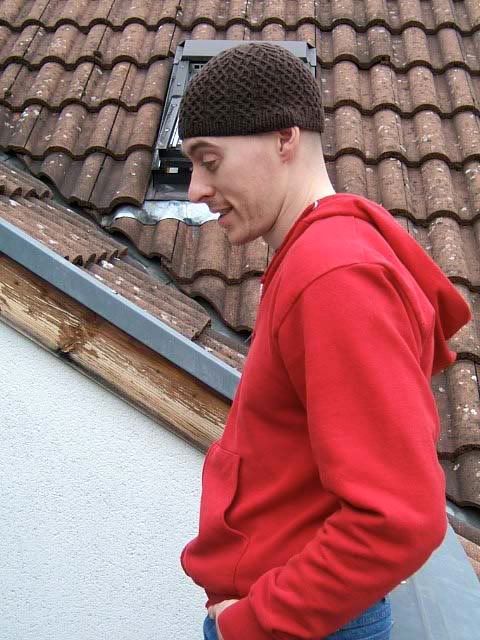 This Shedir was completed right after the New Year, and I am just now getting around to posting it. Part of the trouble was that bad weather made it difficult to do an outside photo shoot, which I insisted on for this one.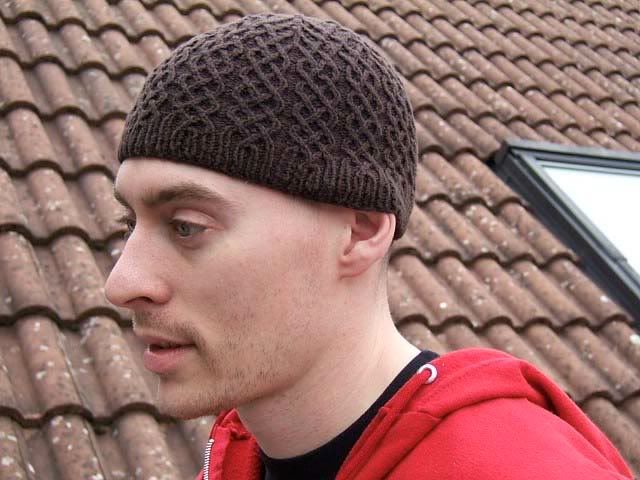 This was a pretty fussy knit, since the cables are so intricate. I'm pretty sure that my gauge was off, since I had to knit an extra repeat of the cable columns, and still it's not, by any means, a "long" hat as is suggested by the pattern. However, I found it very difficult to check my gauge on a twisty set of cables, so I just trusted that the hat would stretch as needed, which it does. Plus, I really liked the particular fabric that was coming off of my needles, and didn't want to change it.
Check out the crown decreases.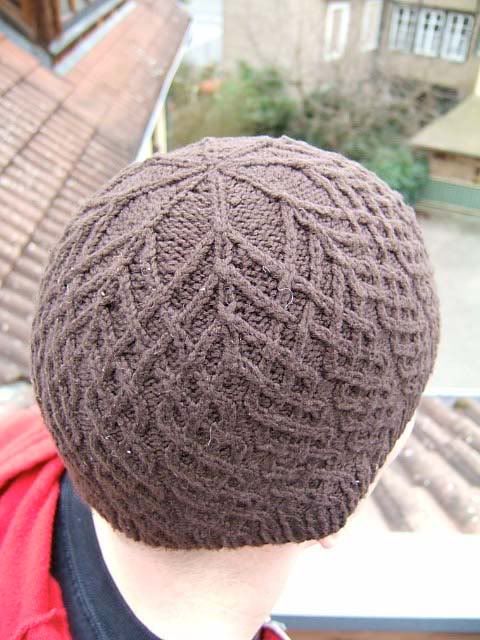 If that doesn't make all the fuss worth it, I'm not sure what does.
Now one of my brothers, Jom, wants this hat in burgundy for his birthday, which is at the end of April (read: very soon after baby's birth). Maybe he'll get one for Christmas, if I feel particularly giving.
PROJECT SPECS
Pattern:
Shedir from Knitty's breast cancer awareness mini-issue PDF download (go to "
archives
" and look just below "Summer 2005")
Yarn:
Rowan Calmer in Coffee Bean colorway (as seen at
Brooklyn Tweed
). I used less than one ball.
Needles:
Knitpicks Classic Circulars, 32" size 3, magic loop technique.
Cast on to cast off:
I can't totally remember when I cast on for this, but it was completed on January 3rd. I think it took me about 2 weeks.
Modifications:
One extra repeat of cabled columns
Notes:
I did use a cable needle, and it was really slow to start with, but after a while I became adept at using it quickly. I would highly reccomend being comfortable with following charted patterns before attempting this project. However, I did find this to be a good foray into the category of "Extraspicy" rated projects, since it's so small. (This is why I didn't cry when I had to rip back several repeats all the way back to the ribbing.)
Other posts I've made about this:
Casting off and casting on
,
Resolute
Extra info:
There is one tiny bit of errata in this pattern. I think that it's row 54 or 64. It has to do with the first stitch, and I'll edit this post later if I can find the pattern copy that I was writing on as I knit. If you're knitting this, you shouldn't have trouble figuring it out when you get to it.