SWAP UPDATE #2: I have accepted all of the offers that I was interested in, and have now posted the rest of the goods on eBay. See this post for links to the auctions if you're interested (I've also added a hank of Schaefer Yarn "Elaine")





SWAP UPDATE: all of the Koigu has been swapped. Still available are the Inox circular needles, the handspun Monster Mash yarn and the two blue skeins of sock yarn (Mountain Colors Bearfoot and Briar Rose Fibers Sweet Freedom).





ETA: Inox sock needles
Today I was going through my stash again, and found some more yarn that needs a new home. I realized that, although I have an emotional attachment to all of these for different reasons, I will never knit them. All eight skeins are fingering weight sock yarn. Swap, anyone?
(I've done my best to photograph these as true to their colors as possible, but please give me a little room for shade-error!)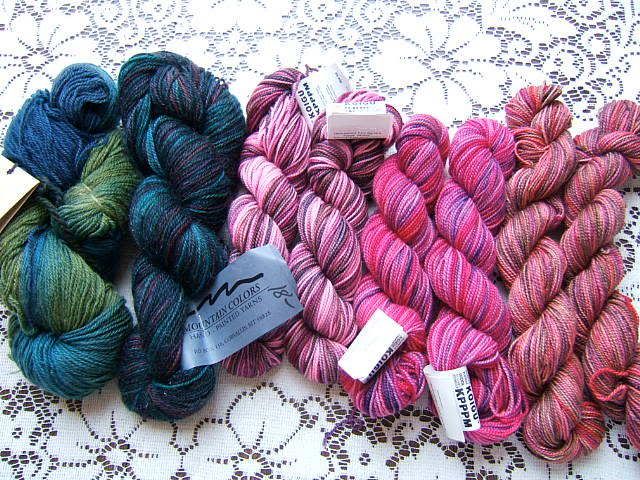 From left:
Briar

Rose Fibers
Sweet Freedom -- DISCONTINUED! "3011" (75%
superwash
wool, 25% nylon, approx 400
yds
/365
mts
, 100 grams), Mountain Colors
BEARFOOT
"Glacier Teal" (60%
superwash
wool, 25% mohair, 15% nylon, 350
yds
, 100 grams),
Koigu
KPPPM
"P30859" (two skeins),
Koigu
KPPPM
"P211 190" (two skeins),
Koigu
KPPPM
colorway unknown (two skeins that I wound into balls and then re-skeined, sans
labels
).
I have three pairs of unused, still new in package Inox circular needles that also need a new home. They are as follows:

Inox 2.25mm (US 1) 24"
Inox Express 2.25 (US 1) 29"
Inox Express 2.00 (US 0) 29"
Also, I will throw in these two skeins of my
handspun
(dyed by
Spunky Eclectic
in "Monster Mash" colorway). It's approx 223 yards total of thick and thin bulky weight singles, 100% Falkland wool. This wool is as soft as Merino, but somehow seems even
sproingier
/spongy. Perfect for a pair of mittens or hat. Some parts are over/
underspun
, as such is currently the beauty of my singles. =) I will wind these into center pull balls if you wish.
Here are some more beauty shots just to give a better feel for the true colors.
What I really want to trade for are solid or semi-solid sock yarns, esp.
Koigu
, Lorna's Laces,
Sundara
, etc., but suggest anything you think will push my buttons. If you've read this blog for a while, you can probably guess at the kind of stuff I like. I'll even consider fiber, because I am always willing to add to the fiber stash, so give me an offer!
There are 10 skeins total. I will split these up if need be, and of course German chocolate/snacks are included in the deal. (And all of that
Koigu
is just begging to be knit up into a Charlotte's Web or similar. Can't you see it?)
I will ship US or international. For those in the States, I have a US address you can mail to.
On to some actual knitting content!
For some reason I haven't actually blogged about them until now, but this is a pair of socks I'm knitting for my husband.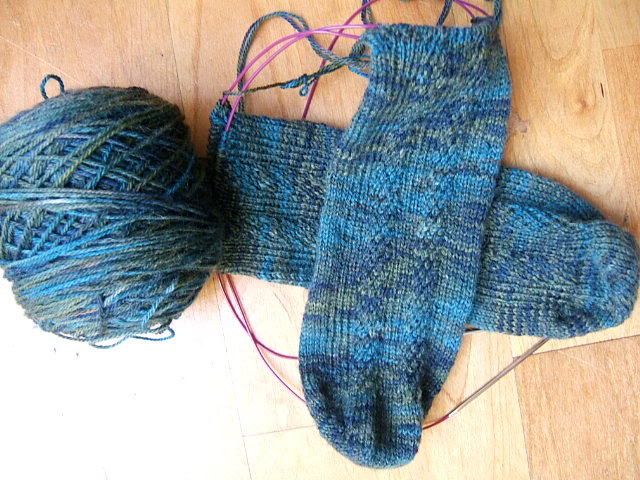 He is picky, and I'm picky, so I ended up having to come up with a pattern myself. As it turns out, Ann Budd must be in my head more than I realized, because this is something of a reinvention of her Herringbone Rib ladies' pattern (available for free download at
Interweave Knits
to subscribers).
This is my first pair of toe-ups, and my first "two-at-a-times" as well. I had to cast on for them 7 or 8 different times and ended up having to
reskein
and wash the yarn so that it would even be
knitable
for my final successful toe choice. My husband is not impressed by the usual wedge shaped toe of many hand-knitted socks (I think it makes him feel panicky to imagine his toes being crowded into there, although I find them rather comfortable myself), so I had to come up with something that would work for him.
First I used the method in the Kelly
Petkun's
KnitPicks
pattern
Two At Once
(essentially the
Magic Cast-On
), but the toe shape wasn't round enough. I tried several different stitch counts to
remedy
that, but finally worked Wendy Johnson's short-roe toe from her
toe-up sock pattern
, and all was finally well with the world. Now if I can just decide on the right heel, maybe I can see a little more progress...