It's the belly to take over the world.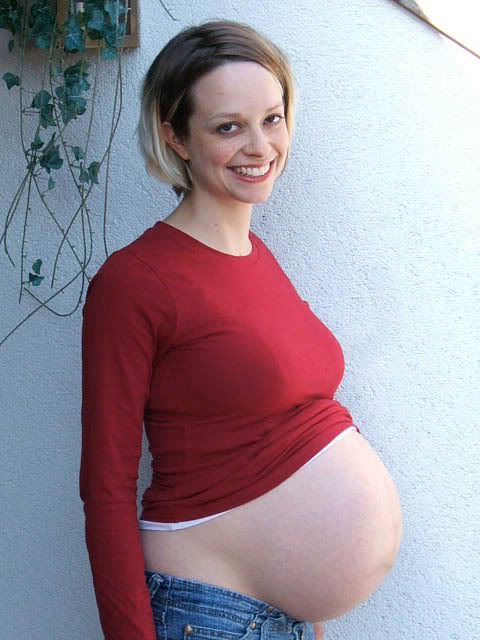 As of today, I am 38 weeks pregnant. With my first baby, I was 8 days early. With the second, I went one day early. I'd like to think that it's not just getting later and later, but only time will tell. I certainly feel ready, but then again, who doesn't at 38 weeks?
To the curious, yes, those are "regular" jeans that I'm wearing. I almost never wear maternity jeans, because they just fall off of me. Instead, I go up a size in regular, stretchy, low-slung jeans and call it good. Often if I'm not going to go out, I wear yoga pants or similar (also not maternity), because they actually do stay up and are the most comfortable.
Here are the Husband Socks, back on the needles.
The reason why they were taking a time-out was because I had knit a short-row heel and the foot ended up being a few inches too short. Then I started thinking that maybe a short-row heel wasn't the best idea anyway, since I want these to be as comfortable as possible for Mr.
Fiberflash
, and sometimes that type of heel tends to slip off of the foot. I was thinking about the reverse heel-flap method from
Widdershins
, but since that involved screwing around with the numbers to make it work for a man-sized sock, as well as learning a new heel method...well, the idea of doing that after ripping out some knitting was just a bit much for me at the time, so I put them aside.
I've become convinced, however, that this baby will not be born until the socks are done, so I have a sudden
urgency
to complete them
right now
.
As it turns out, the heel was not complicated at all, and even with all the changing around of numbers, I was still fine. I'm becoming less and less certain, however, that I can present you with a neat, orderly "pattern" for these; you may have to settle for a "recipe" instead. In face, the way things are going right now, that's the plan.
I am so relieved to be past the heel now, and all that I have to do is to go round and round until I run out of yarn. No more figuring anything out, no more counting stitches, no more consulting patterns or making little notes in my knitting notebook. The only thing left to do is decide if I should continue with this pattern all the way up, or change to a 1x1 rib for the top edge of the cuff. I would prefer the former, but I have a feeling that the Mr. would like the latter.