Today I'm at my in-laws, and as promised, here are the pics. (Because after all, you don't visit this blog for my jazzy little grumblings -- let's be honest here) =)
It is with great satisfaction that I can photograph my finished Newsies Hat. It's not a big project, but I learned cables on it, and figured out a few more things about short-row shaping (I think that's what the brim was). Knitting with Blue Sky Alpaca was wonderful. I highly recommend it; the knit fabric feels fat and soft in the hand.
This is what my first attempt at cables looked like. I was twisting the knit
and
purl stitches. Also, I had to rip out the brim three times. It pays to read directions carefully, especially when doing something for the first time.
Here I am modeling the finished hat. I am super proud of it as you can see.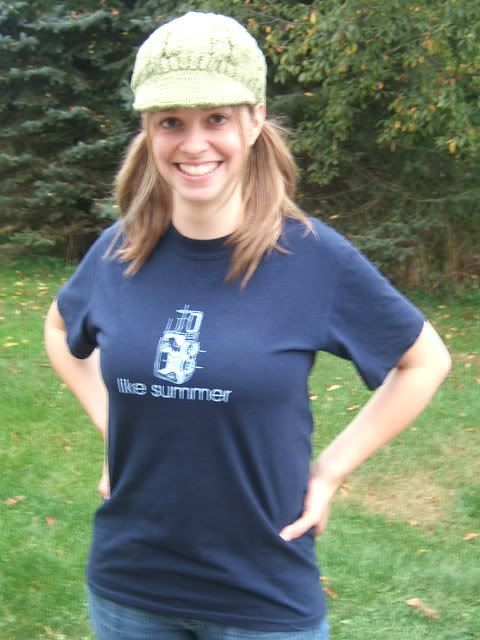 This particular shot also happens to be a little plug for my friend Steve's band, Like Summer. Check them out here

Here is a closer shot of the hat: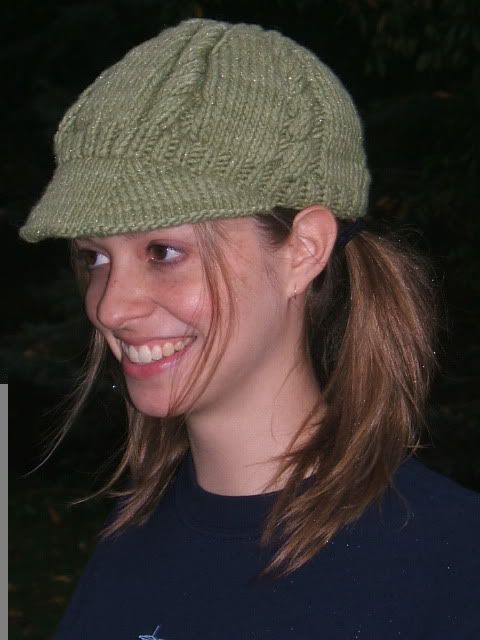 Not sure if I did the cables properly, but they're consistent. Are they supposed to be twisted that tightly?
My siblings were making fun of this hat when I first tried it on, but now they have all been wearing it. Does it really look silly on me or should I wear it out? I think it's cute, personally, but now I feel self-conscious. Most likely, I should not obsess over such trivial matters.
Oh, and remember this stuff?
It really did all fit in here:

Amazing, isn't it? My husband, the master packer.
This is the Wonderful Wallaby (hooded sweater sweatshirt) that I'm making for Mr. A. As you can see in this photo, I'm starting to pick up the stitches in a contrasting color for the front pocket. We went to my grandma's 90th birthday party in NJ on Sunday (round trip of 6 hours), and it always amazes me how much I can get done in the car! Only the ribbing was done before the start of the trip.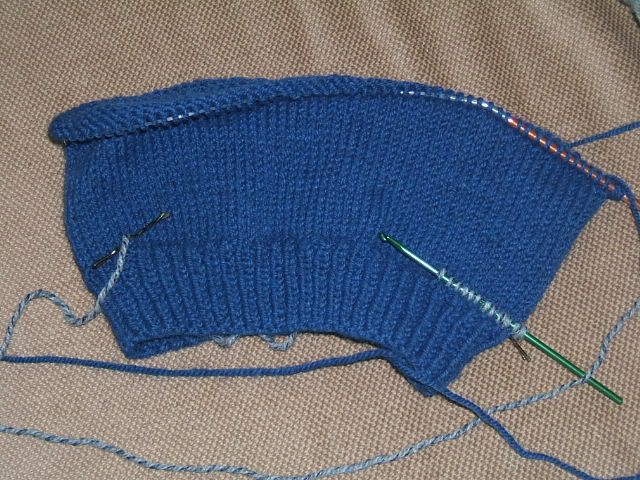 In my monitor, the color is true to life. I wouldn't make something in this shade of blue for myself, but with the little guys blue eyes, blond hair and incredibly pale skin, this will look great on him.