Well, I'm back from Rochester, and we had a great time. It was challenging traveling with my little men (first time on a trip with them alone!), but we made it and it was totally worth the effort. My good friend, Sarah S, is getting married in four weeks (!!), and I'm moving to GA in about 2 months, so this was kind of a "last hurrah" of sorts, at least for a while.
Sarah was the person who inspired me to take up crochet, and to try knitting again, so it's always fun to inspire/be inspired whenever we get a chance to hang out these days.
The first day we went to Village Yarn Shop, which was kind of a surprise. I'd read a great review on it, but when we got there, it looked like it was a book store...but it was both! I have never been in a place that had so much yarn. Woah. Great selection, although their bargain bin was sparse on merch and discounts. (!)
However, I picked up some Lambs Pride in this great orange color to make
Bad Penny
by
Stephanie Japel
. I also found this pure wool Noro for the edging; I'm curious to see how it knits up. There are oranges, pinks, a purple and even a green in it, so it should be interesting. What is it about Noro these days? I feel drawn to it at every turn.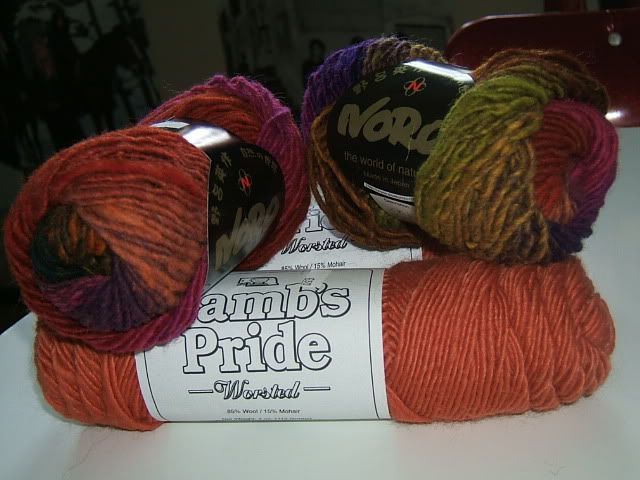 My husband loved the colorway when I brought it home, so that must mean I did a good job picking them out. (He's not easily impressed by this sort of thing.) =)
The next day we went to Spirit Works Knitting & Design, which is not only one of the nicest yarn shops I've been in, (comfy, roomy, and sunny) but also has the best sales! They had bargain baskets all over the front area, organized nicely with DEEP discounts. Just my kind of place! I snagged 7 balls of this Debbie Bliss cotton angora to make...well, something. I swore that I would never buy yarn that wasn't earmarked for a certain pattern, but, here I am 9 week into my Fiber-ized Life, and I've gone and done it. But seriously, they are usually over $7 each, and they were only $4! And it was the perfect color of deep turquoise! (Much appologies for the photo, which does the color no justice) And--! But I realize that I don't have to convince anyone here. I was wholly encouraged to make the purchase at the yarn shop, of course, and everytime I look at the little pile I feel no regret. Only...that vision of a turquoise...lovely something!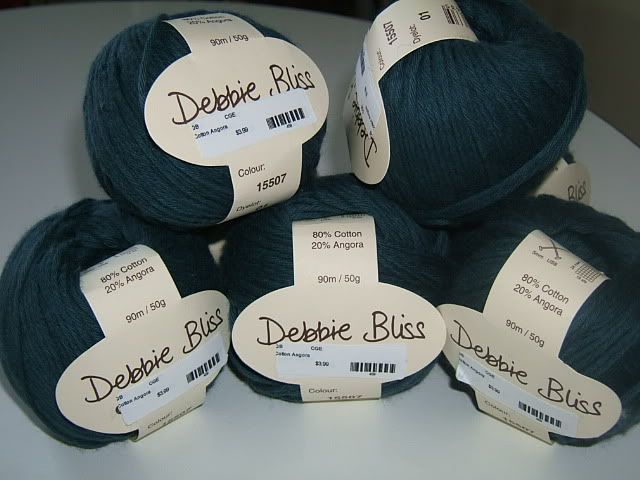 So, after all of those wonderful colors, why did I feel the need to buy this?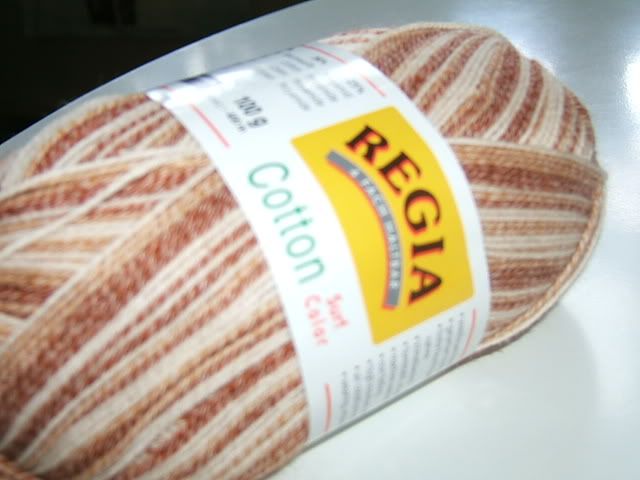 It looked kind of cute at the store, but now I feel disenchanted by it, and don't really want to think about it. I considered making the
Better Than Baby Booties
by Interweave, but I'm not sure how the yarn would "self stripe" on something so small. Any advise from those of you more well-versed in socks than I?
Sarah and I got to spend some great time together, and my little guys were fairly well behaved (although it is apparent to all that Andrew is almost two...).
We got home yesterday, went grocery shopping, took a nap, and then I went to Knit Night. I am exhausted today, and I've pretty much depleted my yarn budget until next paycheck, but it was all worth it.
Thanks Sarah (and parents Ruth Ann and Mike!) for the great time!